The Mall Cluster, also known as the Mall Stampede Cluster,[1] is a group of multi-triggers who triggered in a terrorist attack perpetrated by the Fallen. Rain O'Fire Frazier triggered as a part of this group.
Relationship
Edit
Like many multi-triggers, they appear to suffer from Kill/Kiss syndrome toward the others in their multi-trigger. However, three of the clusters enmity towards their fourth member is due to them perceiving him as the cause of all of their trauma, and not because of Kiss/Kill. With all four members recoiling after emotional trauma, the majority of cluster teams up with each other to go after Rain. Initially, it is mostly based on their grief and perception of him as villain of the cluster. But with some nudging on the part of Cradle, revenge quickly becomes their predominant obsession.[2][3]
Power interactions
Edit
In general, everyone in the group is resistant to the emotion affecting powers of their fellow cluster-mates.[4] As well as, presumably, other emotion effecting powers to a greater or lesser degree.[5]
Due to the set up of their cluster they all experience a forced, shared dream. It starts with them reliving memories of one of the cluster members, years before their trigger event and then directly before the trigger. Then they are transferred into the dreamscape, that appears to be an abstract representation of the mall with a dais at center.[6] This space is divided into sections for each member of the group, plus one that is permanently dark.[7] Each section representing their respective natures. Here, they can hold discussions and share powers.[8]
Their primary powers are represented by tokens. The members of the cluster can pass their tokens to one another at the dais only, as each room is separated by an invisible barrier. Gifted tokens give a boost of the respective power, and in addition transfer part of their owners personality.[9] If one of them dies, their tokens are divided randomly and then become unavailable,[10] it is not clear if those token-boosts are permanent, but the remaining power shifts become stronger.[11]
In addition there is a passive day-to-day rotation that defines whose point of view is experienced, boosts all powers of that member of the cluster, and gives them two additional tokens. On the "dark room" day there is no memorable dream[12] and two additional random tokens can be allocated to anyone. Random/bonus tokens seem to have weaker personality bleed, if any.[13]
Name
Shard
Powers
primaries italicized


Personality effects

Snag
Lurching Intruder

Can reorient gravity for himself, allowing among other things a pseudo-flight ability. Cluster-mates suggest supporting facets involving inertia manipulation and spatial awareness.
Can "charge" objects with negative emotions; generally used on his tinker-tech.
Tinker-tech that enhances his arms, augmenting reach, strength, and durability as well as providing a weapons platform.
Easily breaks through inorganic objects, possibly touch-only.

Self-loathing
Love Lost
Anguished Heart

Wall runner, enhanced speed, can slightly alter jump trajectories
Emotion-affecting scream, augmented with Tinker tech mask. Makes people irrationally angry, and can cause them to disregard normal friendships and loyalties.
Tinker-tech which focuses and enhances her other abilities, such as mobility-enhancing claws on all four limbs and a mask which fine-tunes her scream's effects.
Unclear ability that seems to sharpen her claws.

Rage
Cradle
Grasping Self

Enhanced spatial awareness and proprioception. Upgraded form: transitionless movement.
Senses emotional weak points and connections, and how far someone can be pushed before they snap.
"Limb" tinker; creates hand-themed drones and devices which act as conduits for powers.
channels cutting force between points along surfaces. Upgraded form: 3-dimensional Shaker projection of static cutting lines

Callousness
Precipice
Cloven Stranger

Enhanced balance, ability to temporarily arrest his personal inertia for a brief moment.
Zone of doubt and self-criticism with a set circular radius, secondary use for inducing rapid learning
Tinker ability allows for the creation of fragile extra arms and neural interfaces. Possible secondary specialty of improvised field repairs.
Blaster effect that produces long cutting blades that can be used as projectiles. Causes objects/organic beings to split along the affected areas if force is applied.

Doubt
Powers Breakdown

| Name: | Movement | Emotion | Tinker | Blaster | Dream Token |
| --- | --- | --- | --- | --- | --- |
| Snag | Phenomenal Mover ability | Emotional munitions | Large tinker claw arms | Punch through objects easily | Glass |
| Love Lost | Wall runner | Emotion Scrambling Roar | Wearable Power-Focusing Gear | Sharp claws that can shred inorganic matter | Teeth |
| Cradle | Enhanced Spatial Awareness/Faux-teleportation | Senses emotional weak points | Appendage Tinker | Point-to-point cutting lines | Coin |
| Precipice | Enhanced balance/inertia cancellation | Doubt Generation | Gimpy tinker arms, neural interfaces | Can create a long cutting blade that can go through anything | Metal Shards |
Her powers are influenced by all of cluster powers, however no other clustermates expressed her breaker power. She appears in Love Lost's room in the dreamscape and benefits from tokens given to Love Lost[14], but does not possess her own tokens.
Thanks to her breaker aspect she was able to accidentally send the dreamscape into disarray.[3] She is able to influence dream-visions with relative ease, and seems to posses some deeper intuition about human-shard connections.[15]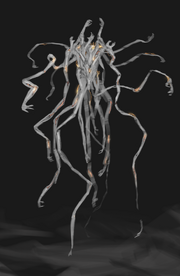 Grasping Self is an initial, cornerstone shard. It connected to Ryan years ago, but after the death of Scion it became broken and was unable to limit Ryan's tinker ability,[16] as the cycle has been disrupted. It was not particularly bothered by that, since it had great expectations of Ryan even with shard network in ruins. It, however, was greatly displeased by cluster formation, and as so, decided to stack the clusters mechanics in Ryan's favor.[3]
Anguished Heart was also connected to Nicole for years and presented quite developed power to the cluster, with a nice amount of information.[3] Anguished Heart has a larger purpose in the cycle, as it makes up a small part of the shards that drive the intense emotions behind trigger events.[17]
Lurching Intruder is a small, young shard. It had recent, accidental connection to his host.[3]
The otherwise black section holds a portal to the secondary room with giant Endbringer-like constructs, that represent shards inside the dreamscape. Each possesses the powers of respective shard, and while comparable to Endbringers they are significantly less durable.
One of them is activated during respective person's night, during which it enforces borders in the main room and guards the portal to the greater shard-realm from invasions.[18][19][20]
Killing the person inside the dreamscape instantly erases an associated guardian.[20]
Background
Edit
The Fallen perpetrated a terrorist attack on a mall, starting a fire and locking people in. This led to four people triggering. Snag triggered after watching his store burn down, and failing to save a little girl.[21] Cradle triggered after realising all the effort that he had put into becoming a better person was for nothing.[22] Love Lost triggered upon watching her daughter being killed.[23] Precipice was a member of the Fallen, and triggered when he didn't take the option to save the people trapped inside due to manipulation from fellow Fallen Seir, and the weight of his inaction hit him.[24]
Snag, Love Lost, and Cradle came together in order to get revenge on Rain and the Fallen.[25][26][27]
Several groups took notice of the groups trigger and creation.[25]
On the sixth day in the dream room, the members of the cluster finally understand permanence of their situation. Rain's regrets get ahead of him and he gifts tokens to Cradle. Cradle does not like it one bit.[3]
Rain started making friends of his own.
The trigger group started gathering allies to go after Rain.
Rain decided to come clean to his team.
Still trying to get Rain. Recruiting villains and more to try and kill him.
Rain also tried recruiting people.
Cradle hires a master-cape by the name of Snaggletooth, who can invade dreams, to try to intervene into nightly cluster meeting, but The Dreamscape tears interlopers projection into pieces and fries Snaggletooth's brain.[28][29] To Rains dismay recalling Mama Mathers did not lead to the similar treatment.
Snag and Love Lost hire Hollow Point villains and The Undersiders and plan assault on the Fallen settlement.
Snag kills himself during the Mathers Compound Assault while marked by Rains blades. As the fight continues Cradle with the help of Operator Red captures and starts torturing Rain. Breakthrough arrives in a pinch. With great effort they manage to capture Cradle and recover Rain.
Colt joins the cluster as a bud from Love Lost.
Cradle betrays Love Lost and drains her and Colt.[2] All three of them get imprisoned by The Wardens.
Cradle gets banished to another dimension. Colt takes on herself a role of a mediator during the dreams.[20]
Teacher's Group started investigation into the cluster mechanics.[30]
Rain offered Love Lost and Colt temporary freedom if they agreed to join the second Wardens' assault on Teacher's Compound. They accepted the offer and assisted Breakthrough during the battle.
Rain, Love Lost and Colt were able to take down Mama Mathers and The Fallen, that guarded Chevalier's Wardens.[31]
Breakthrough attempts to preempt Teacher's shard manipulations and invades the Cluster's dreamscape,[18] changing the room's appearance.[32] They fail to fight the Grasping Self avatar,[19] but succeed at dispatching the vengeful Cradle, which takes care of his guardian.[20]
Ten patrol officers with dormant Corona Pollentias, including Gilpatrick, were tinker-linked by Lookout to Rain, allowing them to invade the dreamscape. Two of the officers were impersonated by Matryoshka and Bijou.
Anguished Heart's avatar killed three of the officers, but was stalled by Rain and Love Lost, allowing others to escape.
Rain and Colt hack the power connection's inside The Firmament, disconnecting newcomers from their cluster and Titan Skadi from Oberon's network.[33]
Wandering Hand and Clenched Fist or just Hand and Fist are proposed fan names for this cluster much like how The Stable has its term.
This cluster's arrangement highly reminiscent of victim-perpetrator reconciliation therapy. Sadly, shards have not enough qualification for that.
References
Edit
Community content is available under
CC-BY-SA
unless otherwise noted.