The City or just the The Megalopolis is a major urban area of Gimel.US, though it doesn't have an official name.
Geography/Description
Edit
The City's location is roughly equivalent to the New York - Boston corridor, but further offset to the northeast, where Brockton Bay and its portal were located.[2]
At the second year it already had a population of roughly 50 million[3] (something around the half of the North-American survivors).[4] The city grew rapidly, with new stores and skyscrapers every day,[5] so bright yellow construction equipment and the gold-tinted windows of skyscrapers dominate the skyline,[6] despite the implications attached to that color from Gold Morning.
Streets and parks of city are filled with numerous memorial pillars, honoring lives lost during Scion's rampage.[7] Due to lack of city planning road traffic is quite bad.
Although refugees lack a proper government,[8] there was mention of a Mayor and city council,[5] as well as functioning, although understaffed on periphery, police force.[7]
The inner, urbanized parts of the city had standardized rents, but not the sprawl, which was mostly farms[9] and tent cities. Distinction between urban centers and rural periphery is somewhat blurry — need for proper housing is still high, so people settle in apartments instead of private houses even in "rural" areas.[10]
Two years after Gold Morning, large sections of the city were still without power routinely at night.[11] As such, candles returned to widespread usage as light sources,[12] and were presumably a sound economic investment.
The dominant currency in the City is the Trading Dollar, which was set up by the Number Man.[13] A separate currency, the New Dollar, is also in use in some parts of the City, but has decreased in value.[14]
Residents
Edit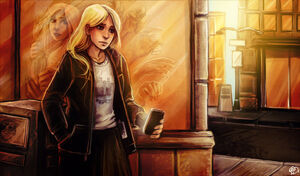 Organizations
Edit
Individuals
Edit
Points of Interest
Edit
Two main origin-settlements:

New Brockton
New York Central

Stratford airfield - One of the earliest settled areas following the evacuation.[18]
(New) Boston cluster
New Haven — close to a Fallen settlement.[19] It has its own portal to Earth Bet.

Canaan — a peripheral town some distance away, known territory of The Fallen.[20]

Lyme
Portals:

Two to Earth N:

One near the Norwalk-Fairfield (Norfair) span (widened)
Another in unspecified location (G-N station, saved)

Big cluster of portals in New York Central area (at least 4) (widened)
Portal out to world that has a portal to the world with the new prison.[22]
The distant direct portal to Earth Shin (intact).
It is an active port, filled with heavy industry and crowded to the point of barely being contained by surrounding geography. The buildings are abundantly decorated with murals, many of them are nature themed.[23]
New Brockton is noticeably haunted by the ghost of old Brockton Bay: some of city layout is directly copied (Towers, Downtown, Lord Street); and while current New Brockton is evading socioeconomic instability, which is rising in the greater megapolis, it is unknown if success is going to last long-term or the economic demise of the old city will repeat itself.[24]
New Brockton was bisected by a sabotaged portal.
It is more of a district of the megalopolis, than independent city. The resemblance to old Boston is mostly cosmetic, with common to megalopolis early housing being decorated with brownstone and brick. Although calling the area "New Boston" is still unpopular.
In contrast, Boston cape scene mostly consist of independent individuals as Wardens influence did not spread there yet.[25]
Background
Edit
Had no humans for a while.
A portal that had been made to send some lost people back to their earth. It was switched to this Earth, Gimel, and explored by multiple parties.[26]
Settlers were sent in,[27] this helped spur Brockton Bays economic redevelopment.
More settlers came in. New Brockton was developed.
At the end of the event most of the North American population was moved into Earth Gimel. As such refugee camps were everywhere.
Connections and some degree of trade with other parallel Earths were established. Earth Cheit started providing prefab construction supplies and workforce, Shin - intermediary materials, and corner worlds as Earth N were tapped for their raw materials.[28]
There was a immense and unparalleled construction boom, though for some reason it was made gold.
Labor riots became more and more common.
Long-standing tension produced by the infamous Fallen sect eventually boiled over into violent conflict, which culminated in the sabotage of existing multidimensional portals by unknown conspirators.
This incident added another critical strain to The City, increasing cases of riots and looting.
Blocks near portals are getting abandoned. Cell coverage and blackouts are getting worse, main roads are disrupted.[29]
Jeanne Wynn of Mortari intends to assume a leadership position over The City, once all other competitors drop from the race. She eventually succeeded in the election and may use it as a stepping stone to greater positions of political power.
Refugee processing station suffered from open paramilitary attack, resulting in a heavy loss of lives among volunteers and refugees.[30] According to Defiant and Dragon at this point the City was under constant, covert assault from Earth Cheit and Teacher agents.[31]
Teacher stripped any security from computer networks, which led to temporary shutdown of services.[32]
Deader and Goner, Barrow, and The Lords of the Pit attempt to anchor themselves in desolated blocks near central portals.[33]
After The Wardens captured Teacher's tech and data The City was slated to mass evacuation due to inevitable dimensional collapse of the region. This only fueled public unrest.[34]
Ingenue and her boys hide somewhere in the region, as well as some Teachers' soldiers.[34]
References
Edit
Community content is available under
CC-BY-SA
unless otherwise noted.