Jurassic World: Dominion Dominates Fandom Wikis - The Loop
Play Sound
Taylor Anne Hebert,[1] pronounced "Hee-bert",[2] is the main character of Worm.[3]
Personality
[
]
Background
[
]
Taylor is initially a shy and awkward teenage girl with a keen interest in capes. She looked forward to the part of her World Issues class where they discussed capes "since the start of the semester".[4] She had seemingly never heard of Trigger Events, but this may have been a mistake by the author.[5]
She was "'surviving', for lack of a better word," from the point her mother died, and then surviving from the point she started getting bullied -- she just wanted to get by. She responded to stress with silence and withdrawal.[6][7] She was starved for touch.[8] She suspected that she would hurt herself before she hurt the Trio.[9] However, Wildbow has stated that if she hadn't triggered, Taylor would likely have simply stopped going to school rather than harming herself.[10]
She was afraid of illegal drugs, saying she "had this sense" that they were like "an unstoppable black hole". Just the idea of being around someone that was high made her mildly anxious.[11] She disliked taking painkiller pills because they never seemed to make a difference.[12]
She is a "nonbeliever", as opposed to an 'atheist', when it comes to religion, as the subject is not something she puts a great deal of thought into and certainly not to the point where she'd label herself an 'atheist'. Due to her habit of looking to people in charge to blame when things become bleak and messed up, it would be a stretch for her to be faithful in a world with poor conditions like Worm.[13]

Taylor is canonically heterosexual.[14]
Story Start
[
]
She has shown some insecurity in her femininity, describing her long, dark curly hair as her "only feminine feature".[4] She would always stress over choosing her clothes.[15]
She had a tendency to throw herself into danger without considering the consequences to herself, that could easily have resulted in her death had it persisted.[16]
Taylor considered joining the Wards, but felt that "the notion of escaping the stresses of high school by flinging myself into a mess of teenage drama, adult oversight and schedules seemed self-defeating".[17] She had no trust in organized institutions, and felt happier having some independence and control.[18]
She had increasing difficulty attending school.[19] Sometimes she would make deals with herself to attend for part of the day, then convince herself to attend for more.[20]
Tattletale noted that she seemed to "gravitate toward solitude", and that she seemed oblivious to people staring at her as Skitter, perhaps because she had spent so long assuming everyone was staring at her as a result of her poor self-confidence. Tattletale believed that Taylor would be better at using Tattletale's power than she was.[21]
Post Leviathan
[
]
She suffered from nightmares.[22] Shocked by the city's devestation, Skitter focused on establishing her new territory and finding a way to retain "employees", despite other demands on her time such as negotiating with Coil over future plans.
Post Slaughterhouse Nine
[
]
She was known for reviewing previous fights to see how she could have done things differently or if some new trick she learned could have taken care of the situation.[23]
Taylor started to take the lead more in engagements the Undersiders participated in. Eventually taking the lead when dealing with Dragon.
Post-Echidna
[
]
Taylor had time to reconnect with her dad, but still had some guilt about the distance in their relationship. She met Emma at school and was surprised to see how her view of her tormentor had changed because of recent events.
After Dragon's return visit, while angry she tried to find a way to compromise after the event by turning herself in. It didn't go well. But eventually her faith in the system was restored somewhat.
As the negotiations turned into extortion and interrogation, a crisis started to form. However it was defused and in its wake, Taylor had achieved what she felt was necessary: a stronger front against the Endbringers and End of the World scenario. She stated "This is what I want to do, above all else," and would commit to joining the effort under the new name of Weaver.[24]
Post-Timeskip
[
]
She is noted to be cold, distant, exceptionally driven, and even ruthless by many characters.[25]
She became concerned that her passenger was influencing her behaviour.[26][27][28] She even blamed ordinary emotions on her passenger.[29] She tried hypnosis and bartering with it to control it, to no avail. Eventually she made a kind of peace with it.[30]
Gold Morning
[
]
Taylor's sanity begins to rapidly fracture after her Corona pollentia was 'de-regulated' by Panacea. Panacea's alterations reduce the range but dramatically increase the power of Taylor's control, at the cost of the 'limiter' on Queen Administrator that prevents Taylor's powers from harming her. The consequences of the loss of the 'limiter' are fundamental. She immediately loses the ability to speak, read, or write and continues to degrade over the course of Gold Morning, eventually losing the ability to understand spoken dialogue.[31]
Shards have a pre-programmed drive to cause conflict. The loss of the limiters on Taylor's Queen Administrator shard cause this quality of her power to excessively bleed into her personality. She loses the ability to understand basic human emotional cues and bodily language, ultimately interpreting nearly any and all forms of human interaction as fighting or conflict. Driven into near-total insanity by her powers, she resolves to take over the disparate Earths in order to finally have peace, but is convinced to peacefully retreat into a self-imposed exile by several heroes, including Narwhal, Rachel, Imp, Tattletale, and Glastig Ulaine.[32]
By the end of Gold Morning, the boundaries between Taylor and the Queen Administrator shard have worn thin. Queen Administrator is able to speak and communicate through Taylor, using Taylor's own voice. [33] Contessa compares her to other parahumans who have lost control of themselves due to the personality bleed-over from an unleashed shard. Echidna, Glastig Ulaine, and the Ash Beast are Contessa's examples of parahumans that Taylor now resembles. Taylor has by this point so degraded that she can only communicate through the assistance of powers, and needs to exert effort in order to be able to communicate as herself, instead of allowing her shard to speak for her.
Taylor ultimately expresses regret for the long chain of decisions she's made, starting from her first meeting with Armsmaster, and culminating in Scion's defeat. At a certain point the losses of friends and the moral compromises became too much, though not even she knows when or where the balance was tipped. Taylor says, in the end, that if she had a way to do it all over again, she would find a way to be a hero differently, a way to do it all better and not pay the prices she was forced to pay.[34]
Afterwards, Taylor appears to be unpowered and dumped into an isolated reality along with her father. She met an alternate version of her mother there. [35]
Relationships
[
]
Civilians
[
]
Taylor had a strained relationship with the students of Winslow High. Because she was bullied extensively by "other girls and a small handful of boys" with the "trio" - Madison Clements, Sophia Hess, and Emma Barnes[4] acting as the ringleaders, she was reluctant to make friends and believed that boys didn't like her.[4] She speculates that the few boys that bullied her sought approval from three of the prettier and more popular girls.[4]
As Weaver, Taylor visits Ms. Yamada for therapy. The public start to see Weaver as a hero following the New Delhi battle.[citation needed]
Teachers
[
]
Taylor disliked Mr. Gladly viewing him as one of the 'popular kids' who had become a teacher.[4]
Mrs. Knott, who taught Computer sciences, was Taylor's favourite teacher.[36][37]
Taylor's Bullies
[
]
Madison Clements, Sophia Hess, and Emma Barnes - The Trio of students responsible for bullying Taylor. Emma was Taylor's best friend from first grade to middle school, the two girls stayed at each other's houses every weekend.[9] Upon entering high school, Emma suddenly abandoned her for Sophia and Madison. The three then tormented her - Sophia physically, Madison superficially and Emma emotionally. Because Emma knew some of Taylor's psychological weaknesses, such as the death of Mrs. Hebert, she was the only one really able to hurt Taylor.
Taylor resisted attacking the trio with her powers, no matter how much she wanted to.[4] She considered the thought of her father's disappointment on seeing that she had attacked the Trio "daunting" but less than her anger and frustration with them. After facing the likes of Coil and the Slaughterhouse 9 Taylor was able to overcome Emma's emotional attacks; following Taylor's public outing as Skitter Emma broke down. Emma Barnes' parents and sister blame Taylor for their daughter's eventual death.
Madison would ultimately come to regret her actions after learning that Taylor had become Skitter, feeling somewhat responsible for the path of violence that Taylor had taken. She would ultimately reach out to various heroes hoping to gain more information but was rebuffed. Eventually Victoria gave her some answers, saying that she would never know whether her actions had ultimately saved the world or not.
They develop a somewhat strained relationship after she becomes Skitter. but repair it over the time she acted as Weaver. She always saw his teachings as a source of strength.
Territory employees
[
]
After saving Charlotte from the Merchants, she loyally looks after Skitter's base and reports daily to her. While Skitter is thankful for her help and loyalty, but isn't sure how to show her appreciation to her.
Parahumans
[
]
Before becoming a cape, Taylor was, in her younger days, a big fan of Alexandria and Armsmaster. As a member of the Undersiders she becomes close friends with Tattletale, Grue, and Rachel (Hellhound/Bitch). She has a somewhat more distant relationship with Regent, due to being somewhat unsettled by him.
Taylor and Grue become romantically involved after the events of the Slaughterhouse Nine arc, but the relationship is short-lived and fizzles due to dramatically different levels of potential investment in the relationship. Where Grue was unwilling to make it a 'serious' relationship, Taylor very much was.
Taylor and Clockblocker share a vaguely respectful mutual relationship despite being enemies, a connection forged by fighting with or against one another several times. This connection becomes obvious to the point that civilian rumors begin to circulate of a romantic relationship between the two. Taylor is also close to Golem, serving as something of a mentor figure. She also spends a large amount of her time with Chicago wards but is considered not to be as close with them as she is with the Undersiders. As Weaver, Taylor visits Ms. Yamada for therapy. The civilian public begins to see Weaver as a hero following the Behemoth battle and Glenn Chamber's unauthorized release of her POV video of the battle.
After the time-skip, she is close to Golem, serving as something of a mentor figure. She also spends a large amount of her time with Chicago wards but is considered not to be as close with them as she is with the Undersiders. After recovering from her injuries during the oil-rig battle, Taylor collects a team of parahumans with a semi-rotating membership from capes she had known in the past. This group includes Lung, Tattletale, Shadow Stalker, Cuff, Tecton, and Canary at different points.
He was the first real Cape that Taylor worked with. She loses her respect for him after he betrays her, and they later become brutal enemies. After gaining perspective, Armsmaster apologizes to her (which catches her off guard.) Afterwards they're able to have a civil (if not friendly) relationship.
Alexandria was Taylor's favourite heroine when she was a kid.[38] When she was nine, she went through a phase where she wore an Alexandria t-shirt and had her mom help her look up pictures of Alexandria online; the only time she had ever been a fan of a particular hero.[39]
She developed a fractious relationship with the hero which turned dangerous a bit before Taylor began her career as Weaver.
Lisa is one of the first to trust Taylor from their first meeting and eventually becomes her closest friend. Despite some a few later misgivings over Tattletale's morals, especially when she suddenly unveils her more audacious plans, Taylor generally accepts her reasons and trusts her to do the right thing. In turn Lisa is somewhat protective of her because of two reasons: her past, and her involvement in recruiting Skitter.
Taylor develops a crush on him and the two date for awhile. After the timeskip, though they have long since separated, she is still surprised to see that he had moved on with someone else.
The two initially have a rocky relationship, but by the end of Worm, Taylor is one of the few Rachel could call a friend.
Taylor eventually came to think of Rachel by her name instead of her cape appellation.[40]
Taylor is wary of Regent's ways. She knows that he's sociopathic and considers his membership on the Undersiders a necessary evil.[citation needed] She acknowledges his power is useful, but doesn't fully accept its moral implications.
Taylor thinks she's annoying, but tolerates her out of respect for her brother. They develop a close personal relationship later on.[citation needed]
Taylor is extremely distrustful of Coil because he involved the Undersiders in a kidnapping (albeit indirectly), but depends on his funding and supplies. As his plan to dominate the city comes to fruition, their conflict puts her increasingly on edge.
Skitter works to save Dinah Alcott. While unfortunately she works for the PRT, she harbors no regrets or ill will towards the thinker.
Skitter comes to know and talk with all of the Travelers, who cautiously respect her. She first meets Sundancer while fighting at the ABB warehouse, but unnerved her by disfiguring Lung. Likewise, she doesn't seem to get along too well with Trickster nor Ballistic, who don't trust her motives and are suspicious of her. Genesis is more neutral but later sensing Skitter's agitation with Coil, becomes guarded.
Complicated. While she disliked the Undersiders due to the bank argument, she would later come around. Because of the Nine, she gifted Skitter with Atlas and Relay bugs to cover her weaknesses. Though these were meant to be temporary they helped her escape the firebombs.
They would cooperate to some extent, Miss Militia's attitude as leader of the local heroes more amenable than that of her colleagues. During the Echidna fight Skitter often informed her of urgent developments and did get understanding if not acceptance from the pragmatic hero. Like Defiant, she was sympathetic to the worst of Skitter's treatment as a cape, including the PRT order to unmask her. Thus she would be somewhat involved in Skitter's Surrender, although Skitter begrudged her decision to avoid influencing the ongoing negotiations.
Despite his earlier betrayal, Defiant becomes something of a friend to Taylor, or at least a respected colleague. He and Dragon work to create her equipment and ferry her from place to place, at least partly as an apology. Their relationship is purely business.
Appearance
[
]
Civilian Identity
[
]
Taylor was a tall,[41] stick-thin,[42][43] young woman with long, curly black hair[44][42][45][46] and glasses. She had a thin-lipped, wide, expressive mouth she inherited from her mother, and her large eyes and gawky figure made her look a lot like her father.[4][7] According to Wildbow's Patreon art, she has brown eyes.[47] She was approximately 5'8" at the story's outset.[2], but grew to 5'9 at the time of her Wards physical[48], and then later 5'10.[49]
Taylor didn't wear clothes that showed skin, or bright colors. Emma presumed this was an unconscious effort to blend in or hide.[44] Lisa Wilbourn came to a similar conclusion.[50] At various times, she wore a brown hooded sweatshirt over a green t-shirt.[4]
As time went on and under the influence of Lisa Wilbourn, she began to vary her wardrobe more. Learning to vary her appearance to blend into situations. She also grew taller and gained some muscle from her training regime and activities as a parahuman.[51] The fact that she didn't need to turn her head to look at things gave her a false appearance of extreme confidence.[52]
Parahuman Identity
[
]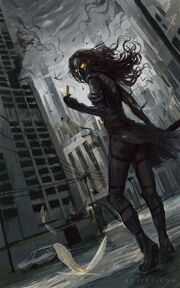 As Skitter, Taylor wore various costumes made of spider silk.
Initially, she wears a black-and-grey spider silk bodysuit with armor panels made out of insect shells and exoskeletons augmented with more spider silk. [9] She dyes it black with grey paneling before she goes out.[53]
The yellow lenses of her mask are durable, high-end swim goggles tinted to help filter out bright lights, with lenses from an old pair of her glasses sealed inside with silicon.[54] Her mask leaves the back of her head uncovered and her hair free to fly behind her.[55]
The costume lacks the full extent of the armor paneling she planned, including protection for the back of her head, but the armor covers her face, chest, spine, stomach and major joints (including wrists, shoulders, elbows and knees).[53] Each had "layers" resembling a pillbug.[56] The mask design features dull yellow lenses and sections of armor designed to imitate a bug's mandibles.[57][58]
She kept her costume clean by having bugs eat and clean any waste and wiping it down with a cloth.[59]
The spider-silk fabric is too tough to cut with an x-acto knife, although it can be slowly cut through using wire cutters.[9] It was mostly waterproof.[59] Prior to dying, the costume's prototype had fabric that was a dirty yellow-gray color, and the armor was naturally a dark mottled brown-gray.[9]
Taylor has a utility compartment for storing necessary items, weapons, and insects in the shape of a spade-shaped armor panel that covers her back.[57], Taylor's backpack contains "a set of EpiPens, a pen and notepad, a tube of pepper spray meant to hang off a key chain and a zippered pouch of chalk dust."[57] In Queen 18.3, Miss Militia takes a look at the contents and sees: A handgun (Trickster's spare), a length of spider silk fashioned into a long cord, pepper spray, a change purse, containing cotton swabs (to muffle the noise), needles, smelling salts, and change, a collapsible baton, and a combat knife (sturdy enough to be used as a crowbar if needed).
When her costume was damaged fighting the Nine, she added a makeshift silk skirt[60][61] and a cape/shawl.[62][63][64][65][66]
Later, after a redesign, she incorporated clawed fingertips into her costume.
[67]

She first wears a generic version of her costume created by Dragon, which lacks the armor of her earlier costume simply being a light grey bodysuit with cleaner, slim dark grey armor panels. The mantle around her shoulders and the cloth hanging from her belt are marked in electric blue with her personal gang emblem (a beetle facing downwards) in miniature at each corner, flipped upside down so that it faces upward.[24]
When she deployed against Behemoth in New Delhi, she re-used her old Skitter costume so she would have proper protection.[68] Defiant also equipped her with a flight pack which she would use for the rest of her career, replacing her utility compartment. The flight pack has antigravity wings resembling dragonfly wings which fold at the joints, antigravity panels on the bottom and sides, and mechanical arms. There are controls hidden in her gloves, as well as redundant control systems inside operated by bugs.[68]
After The Timeskip Weaver was properly outfitted with a silk body suit and her usual armor. Her later costume had extra armor, with a coil of silk hidden beneath an armor panel at the back of the hand.[67] Wildbow had her down in his notes as 5'8″ (175 cm), 125 lbs (56 kg) during her stay in prison[69]. According to her Wards physical, she was five feet and nine inches tall.[48] She later described herself as a hundred and thirty pounds and 5'10".[49]
After the Timeskip, she wears a spider-silk version of her Weaver costume. After it's partially destroyed during the oil-rig battle, she wears a costume that combines elements of several provisional costumes she had created in different color schemes.
During the
oil-rig battle
, she wore a black bodysuit with white armor panels and lenses. She carried primarily symbolic weapons - a handgun, taser, and pepper spray - and wore her flight pack.
[67]
Afterward, she wore a similar costume, including flight pack.
[70]
[71]
She carried the same tube of pepper spray, rescued from the remains of her previous costume.
[70]
She carried a knife in a holster, and supplemented it with a
nano-thorn
knife created by
Defiant
.
[71]
Recovering from the Oil-rig battle Taylor wears a black bodysuit with white armor panels and lenses.[67] As Khepri she is missing her right arm, and appears to not be able to control her body very well. Throughout the fight with Scion, she usually had Doormaker and Clairvoyant attached to her, though when Doormaker ran out of energy for his power, she left him behind.
The name of Khepri was first seen when Contessa refers to Taylor as such, after the fight with Scion has concluded.
[72]
Abilities and Powers
[
]
Taylor possesses a form of telepathy that transmits and recieves information via. yet-unknown-channels[73] that grants her total control over most arthropods.[74] So although she usually controls a variety of insects, she can also control a number sea creatures such as Crabs, Lobsters, and Krill,[75] some Mollusca like slugs and snails[76], and can even control certain in-body parasites such as heartworms.[77]
Double Trigger
[
]
According to Number Man, Taylor has had a Double Trigger, where a person triggers twice back-to-back; the sheer trauma of her first trigger causing a second one. As such, she is unable to have a Second Trigger to become more powerful, since she already had one.[78]
Had she not undergone this double trigger, her bug control would have been much cruder and less skilled, being like how Chicken Little controls birds but with insects instead.[79]
Based off what we've seen of Aiden's control, this could likely mean that she'd be unable to precisely operate and her insects, instead controlling them more like a 'wave' that she 'pushes' and 'pulls' using a sort of invisible 'rally points' with the capacity to give additional orders like to attack on the way while the bugs are being drawn to the point, and likely cannot control them and co-opt their senses at the same time. Additionally, any fine and precise control of insects she does have would most likely be limited to either a single bug or at least a much smaller number than her full swarm, at the cost of becoming unable to have any control whatsoever of all the other insects in range, instead of being able to mircomanage and skillfully direct all the insects in her range like in the story proper.
Control
[
]
She can make her minions do things that they would not normally do, and push them to the limit where they end up harming themselves with how much effort they put in.[80]She can make them do things such as walk into fire[citation needed], produce so much web silk that they physically couldn't produce any more[81] or stinging while injecting little[82] to no venom.[83] She doesn't require "organized" insects. Once they leave her range and she stops controlling them, her bugs revert to their normal behavior patterns.[74] However, if she has given a command to them while still in her range, she must intentionally dismiss the instruction she gave them or give them a new one, or else they will continue to fulfil their last command. This resulted in the accidental murder of Director Tagg when she was knocked unconscious, as her last order to 'sting him' was not interrupted by her, so her insects stung him to death without her able to stop them.[84]
Her power designates what classifies as a "bug", and thus what she can control, during her Trigger Event based upon her understanding of the term and the human knowledge of parahuman hosts within Shard Network. As such, Taylor's notion of a 'bug' is nebulous and sometimes inaccurate.[85] Her power doesn't work on creatures below a certain size, such as skin mites[86] or nematodes, which prevents her from sensing people through the microsophic insects on or inside the human body, nor could her power affect squid.[76] At different times, she speculated that she could control anything with an exoskeleton or shell -- which wouldn't explain how she could control earthworms -- and that it was the subject having a non-complex nervous system.[87] It's possible that she could control bugmen, depending on their brain makeup and chemistry.[88] However, she could not control bug-like Case 53s,[89][85] Breed's creatures,[90][85] or any insects cloned by Echidna.[91][92] At one point, Taylor attempted to distract a foe underwater by forming simulated bodies out of sea creatures.[75]
She was able to control Atlas, a horse-sized beetle, and have her range extended with relay bugs by roughly three hundred feet around each relay.[93] Both of these were courtesy of Panacea. Like all of her other bugs she saw them as tools, though Atlas did have some sentimental value.
Multitasking
[
]
Taylor has an almost limitless ability to focus on multiple insects at once, or to focus on other things while also using her insects.[82][94] She can give general instructions, in which case she is only vaguely aware of their movements, or guide individual insects through complex tasks, in which case she is more precisely aware of their movements and environment.[95] However, she could be distracted by the difficulty of focusing on her insects' senses,[96] and by Panacea's modified insects providing contradictory signals.[94][97] As of Colony 15.7, she was only capable of holding one conversation at a time, even while controlling multiple clones.
Her power would sometimes perform actions by habit,[28] when she was incapacitated,[98] or when she was in an altered mental state,[27] without her conscious instruction.
Emotions
[
]
Taylor would sometimes use her bugs to "channel" her emotions and body language, lending her an "aura of indomitable calm".[26] This ability gives her a partial Anti-Thinker resistance, even against powerful Thinkers like Alexandria, Tattletale and Jack Slash, or Emotion-readers like Cherish. This can be seen with Alexandria's interrogation, when Taylor was able to attack Alexandria and the latter was not prepared as Taylor had offloaded all of her emotional and social cues into her bugs and thus appeared calmer than she truly was.[99] Armsmaster's lie-detector and Cherish's power also had partially bad reads on her emotions, even Jack Slash can get incorrect reads on her. Even those close to her have trouble understanding her at times, even a powerful Thinker like Tattletale.[100]
Senses
[
]
The sensory input from her bugs is "fuzzy" and difficult for humans to interpret.[95][101] She can sporadically hear and see clearly, but the "signal quality" is unreliable.[101]
Practicing doesn't seem to produce results.[96] However, over time, Taylor does learn to more reliably hear through her bugs.[101] In her last day as Skitter she was unable to understand a phone message heard with her bugs, but was able to identify it was a recording. She was only able to discern tone of voice at "rare moments".[102] Her ability to interpret sensory data from her insects seems to increase during periods of stress that match the emotions of her Trigger Event: in one such instance, she was able to clearly see and hear everyone in a room and beyond in detail with just a single butterfly, identifying both her dad, the PRT officers, details of their appearance, what room in the house they were in, and what exactly they were saying.[103]
Based on the combined sensory input of large numbers of insects, Taylor can gain a very clear mental picture of whatever they're interacting with.[95] She can also sense the biology and location[73] of every bug she can control.[104] This gives her enhanced aim[105] and the ability to dodge attacks with supernatural reaction times.[106] However, in environments where bugs are scarce, or when dealing with materials that they don't interact with well, her image of the area can become less reliable.[citation needed]
Taylor also receives some knowledge of her bugs' biology from her power,[107] giving her an understanding of their limits, capabilities and the effects of adaptions such as any venom they have.[108]
Range
[
]
Taylor has a limited range around, above and below her, of about a tenth of a mile,[109] and later about 3-4 city blocks with a block being 300 feet.[110] During periods of stress that are close to the feelings of frustation and hopelessness she felt during her Trigger Event, it would increase, once reaching over six and a half blocks,[103] which also came with her bugs responding faster to her commands[111] and getting better at interpreting their senses, such as when she could clearly see and hear everyone in a room and beyond in detail with just a single butterfly.[103] However, these power boosts are not permanent and will fade as her feelings return to normal, and with it her Range.[112] Nevertheless, her base range did slowly increase over time as she won more conflicts;[113] starting at two blocks early on,[114][115] up to three blocks when she began to claim territory,[116] and up to a base range of five blocks by the time she surrendered to the PRT, a fact supported by her in-depth Cast profile describing her range as being nine to fifteen hundred feet around her around her time as a warlord,[58]which would extend if she felt 'trapped',[117] though sometimes she would get increases in stressful situations even though she didn't feel 'trapped';[103] she later states that her power gets stronger when she feels either 'trapped', 'despair', or 'betrayed'.[118] By the time she fights Behemoth as part of the Chicago Wards in India, she mentions that her range is now a radius of one thousand, eight hundred feet,[119] which makes her full range at the time to be double that at a three thousand, six hundred feet diameter.
She had a temporary range boost while in the area-of-effect of The Yàngbǎn's power-magnifying field, increasing her range by several blocks and growing, which she used to contact Phir Sē in his basement. The exact extent of her range increase under the field is not mentioned.[120]
Skills
[
]
Taylor has come up with a multitude of creative uses of her power. For example, she can produce and manipulate large quantities of spider silk, coat her insects in petroleum jelly and capsaicin to use them like pepper spray, deploy groups of bugs to create humanoid figures,[121] mask her movements, and clear out rat infestations. She was able to catch containment foam on glass carried by her bugs and stick it to her attackers.[122] She can disguise or project her voice by having her insects buzz and chirp together.[123] Over a two year period she learned how to read Braille and used her bugs to read multiple texts at once.[124][125]
She even had some tricks she wasn't consciously aware of learning. For example, she would occasionally use her bugs to cover her while she moved without noticing, making her difficult to track.[126]
Taylor had an unusually high pain tolerance, which she blamed on her exposure to a pain-bomb of Bakuda's.[127]
Post-Timeskip, she is an exceptionally accomplished martial artist; her bug-swarm-enhanced senses enable her to react to events faster than a normal human should be able to. She can easily defeat even other experienced parahumans in hand-to-hand combat. The boost to her senses and coordination due to her swarm also allows her exceptional accuracy with firearms. Personality-wise, she is noted to be cold, distant, exceptionally driven, and even ruthless by many characters.[128]
Taylor was rated by PRT analysts as a Master 5,[54] which was later upgraded to an 8. A rating of Thinker 1 was officially added when Emily Piggot deduced she could see through her bugs in a limited fashion.[129][130] Piggot suggested that this should be upgraded when Taylor admitted she came up with the plan to raid the PRT to stop Dragon and demonstrated the ability to anticipate incoming attacks through her bugs,[131] but she was still classified as a thinker-one after Piggot had left office.[132]
Later Director Tagg ordered for her to be treated as a Master 10, Thinker 3 with an additional rating of 2 in every other category; in order to make sure his soldiers didn't underestimate her[132] and to authorize additional means of containing her.[133]
Glaistig Uaine explained to Taylor that she "stands shoulder to shoulder" with other Noble Shards users in power, such as Amy Dallon and Labyrinth, as well as Contessa, herself, and Eidolon, suggesting that Taylor has the potential to be rated 12 or higher on the Master scale.[134] This is further supported by the confirmation that Taylor's Shard, the "Queen Administrator",[135] is the Warrior's counterpart shard to the Thinker's High Priest, the Shard possessed by Eidolon.[136] Unlike Eidolon's power, however, her shard was correctly broken and largely destroyed by Scion at the beginning of the Cycle, limiting its functions to prevent the host from turning it against the Entities.[137]
Taylor's trigger event, which involved both an environmental stressor and a thinker stressor, led her primarily Master power to have Thinker and Shaker overtones.[138]
Khepri
[
]
In order to combat the end of the world during the Gold Morning, Taylor gave Panacea instruction and permission to remove the safety restrictions and regulations on her power through the Corona Pollentia and Gemma. The result of this was that Taylor's range became significantly reduced to a radius of three hundred feet,[139], making her diameter double that at six hundred, which she could extend through the use of her relay bugs.[140] While her control over insects was still present, and she could still sense their presence and have them react to her subconscious thoughts, this control was reduced in precision to an unknown extent, her bugs using more swarm tactics than her usual calculating attacks, nor could she communicate through her bugs. Furthermore, her size limit has increased, as she comments on there were bugs in her former swarm that are now too small for her to control.[141]
To contrast this, Taylor gained a crude control of nearly every sapient and sentient creature that enters within nearly sixteen feet (fifteen point nine-eight feet to be precise)[141] making her full range a diameter of nearly thirty-two feet. This most notably includes parahumans and, subsequently, humans,[142] as well as a focused sense and awareness of their bodies. This range cannot be increased through periods of stress mirroring her original trigger event, as her Corona no longer connects to the parts of her brain related to emotions or similar concepts. She also slowly began to lose control and awareness of her own body, unable to communicate directly, move as fast or as well as she used to, only able to focus and perform one bodily function like breathing at a time, and losing touch with reality. Her Shard was able to to obtain some control over her body, emotions and thoughts, and would perform actions without her conscious or reflective command in an effort to help her, trying to learn how the two can work together. All of which grew worse as time went on and the barrier between Taylor and her Shard became thinner and blurred, losing understanding of what people were saying and interpreting all actions as conflict to fight.[141]
This control is not automatic, and Taylor, in brief periods of lucidity, can choose not to control someone in her range. People who are in her control are capable of feeling emotion, perform steady breathing, feeling tense and perform slight, subconscious usage of their powers like Lung; all of which Taylor is capable of sensing, along with sensing other inner workings like their well-being, where a person was sore, how fit they were, and most importantly how their parahuman powers works. Taylor can also co-opt their senses like she did with her bugs, allowing her, for example, to see and hear through multiple people. However, the people are completely unable to move despite their feelings and attempts as they are, in Taylor's words, "Waiting for instructions". Any control that Taylor does exert on them is crude, but a bit more fluid than her control over her own body at that point, allowing Taylor to give them somewhat more precise commands. This ability also causes Taylor and those she controls to suffer shared experiences; feelings felt by one bringing up different memories from each person that are associated with those emotions, and those memories being exchanged between them and Taylor, as those she controls become an extension of herself. Control and senses over their parahuman powers is more precise and efficient, though Taylor remarks in the case of Bitch that controlling her would not give her any special knowledge of Bitch's whistles or commands, or her instinctive understanding of the dogs.[141]
Taking command of Doormaker and Clairvoyant, Taylor was able to round up and control roughly five thousand two hundred Parahumans and over ten quadrillion insects from dozens of different Earths to combat Zion, using the latter to find parahumans and insects, and to keep track of the battle across alternative Earths, and the former to open portals within her range to other parahumans so that she can control them. Taylor comments that, had she the time, she could control over ten quintillion bugs; the total number of insects on the entirety of Earth.[140] With these she coordinated the fight with Zion while launching a number of psychological attacks against him, taunting Zion with his dead partner, and sequestering a vast number of Tinkers away to construct a form of tinkertech interdimensional battering ram to kill The Warrior's main body when his avatar was destroyed and a portal was opened to it.
Though a full list of creatures Taylor can now control is unknown, there are a number of beings she cannot that is known. She could not control Zion or the Endbringers, nor the Three Blasphemies. She seemed to be unable to control Imp or Dragon for unstated reasons. She was briefly able to control Glaistig Uaine, but she was able to escape Taylor's control by swapping the control on her over to one of her ghost projections. Finally, she did not control the Sleeper, though this was not due to an inability to control him but rather because doing so would be more troublesome than it was worth.
History
[
]
Background
[
]
Taylor Anne Hebert was born in June 1995, arguably on the 19th,[143] 12th (a week before the 19th),[144] or 11th (about a week before the 19th and the date Worm began.)
Growing up, Taylor's parents showed concern for her safety. They warned her to stay on the Boardwalk and avoided the bad part of town, a command she scrupulously obeyed.[53]
When she was around five or six, she saw a meth addict freak out on the bus, making enough of a ruckus that the driver had to stop and force him off. This fright permanently affected her.[11]
Her mother, Annette Rose Hebert, died in a car crash later attributed to texting while driving. As a result of the incident, Taylor becomes closed off and rigid. Her previously strong friendship with Emma Barnes became strained due to this change, but it still served as an emotional pillar.
A year and a half before the story begins, just before they enter high school,[4] Emma unexpectedly abandoned Taylor to befriend Sophia Hess and later Madison Clements. The Trio then began aggressively bullying Taylor, including one event in early January[145] that causes Taylor to trigger. They send her vicious e-mails, upend trash over her desk, and steal her mother's flute from her locker.[4] Others join in, 'accidentally' skipping her when passing out assignments and adding their own voices to the taunts and emails.Taylor begins lying low in the bathrooms during lunch and comes to view it as "refuge ... a place I could retreat to, a place where I was off their radar".[4]
In January 2011, she arrived back at school to find her locker had been filled with used pads and tampons, and then someone shoved her inside. She triggered after enough time had passed to realise no one who'd seen what happened was trying to help, and was freed from the locker by or before the end of first period.[146] While she recovered in hospital she was visited by the PRT in case she had triggered. She was overwhelmed by the sensory input of her power and didn't notice.[147] Her near catatonic state kept them from drawing any conclusions.
Three months before the story begins -- once Taylor recovered from her trigger event -- she started to prepare herself to become a hero.[9] She exercised, honed her abilities, doing research and preparing her costume. Her training schedule consisted of running every morning and every other afternoon.[53] She resisted using her power in school for three months, restricting it to a faint buzzing sound at the edge of her consciousness.[4] She conducted practice sessions, "far from prying eyes", to determine the extent of her power.[4]
At some point, her backpack was stolen from her locker by the Trio and stuffed in a trash can. She bought a new one for twelve bucks. This incident alerted her to the risk of someone reading her notes, and she rewrote them in code. Around the same time, she began hiding equipment for her superheroics in a boarded-up coal shute in her basement.[9]
Story Start
[
]
On April 8th, 2011,[145] Taylor was discovered in the School bathroom, ruining her hiding place. The Trio drenches her clothes and bag in juice. She then throws her bag against the wall in anger, her midterm project -- due that day -- is destroyed. She finally lets her defenses drop and is automatically swarmed with bugs responding to her emotional distress, but she resists killing the trio.[4]
At home, Taylor discovers the juice also ruined many of the contents of her bag, including notes on her eventual superhero career. This event pushes Taylor to stop putting off the start of said career.[9] That weekend Taylor completes her costume and on Sunday night goes out in costume for the first time, crossing into the "bad part of town" just after midnight.[53]
On that first night out, Taylor notices a group of ABB members, including Lung (who she recognizes immediately from the news and online). She hears them discussing killing "children".[53] She fights Lung alongside the Undersiders.
Having been seemingly mistaken for a villain, Taylor joined the Undersiders, intending to gather information as a mole. She helped them rob a bank and attack a fundraiser, embarrassing the heroes.
She was concussed when the ABB ambushed them. Bakuda launched a wave of bombing against the city to free Lung, forcing the other villains to unite against her. Skitter personally defeated Lung after he defeated Kaiser, Fenja, Menja, Bitch and Sundancer.
She fought the Endbringer Leviathan when he attacked Brockton Bay, helping to track his location and rescue wounded until her communicator was fried. She was nearby when Armsmaster duelled the monster and picked up his Halberd when he fell, using it to wound the monster and help other heroes clear rubble.
Taylor discovered that the hero Shadow Stalker was in fact Sophia Hess, one of the girls who had tormented her. In the ensuing conversation, Armsmaster was revealed by Tattletale to have fried her armband in order to prevent her giving away the beast's location to other heroes, which would have prevented him duelling it one-on-one. In revenge, he revealed her status as a mole to the Undersiders.[148]
Nevertheless, she rejoined the Undersiders, disillusioned with the heroes. She agreed to Coil's plan to take over the city, claiming a territory. There she fought the Slaughterhouse Nine.
Spearheaded winning strategies against Dragon's suits.
On June 19th, Coil completed his takeover of the city by faking his death and discrediting Emily Piggot. He claimed he was going to release Dinah Alcott, as agreed, but instead attacked Skitter. After the Undersiders defeated Coil, Taylor killed him.[149]
Taylor felt increasing pressure from the authorities, who revealed her secret identity to the public.
Eventually she surrendered, hoping to acquire concessions in the form of reforms in exchange. This initially failed, but after she killed the PRT's local and national leadership, she was proclaimed a hero.[150]
Took part in the battle against Behemoth in New Delhi.
Taylor spends the timeskip as a member of the Chicago Wards, training Golem, and participating in many Endbringer fights. She helped her team expand their operations into neighboring cities.
She participated in the fight against the Slaughterhouse 9000.
Taylor was injured during the Oil-rig battle, and moved to uphold the Truce and recruit help.
When Doormaker was incapacitated she led a strike team to investigate the Cauldron Compound.
She asked Panacea to modify her powers, becoming the being known as Khepri. Taylor's modified powers allowed her to control the capes and even non-capes[151] around her in a similar fashion to her bug swarm. She took control of Cauldron's Clairvoyant and Doormaker, enabling her to find and utilize capes from multiple alternate Earths.
Though she now had the power she needed to face the Warrior, she dealt with a rapidly deteriorating mental state. Eventually, she became unable to communicate with others. Her actions were opposed by her allies and friends.
After Scion's defeat, Taylor's mental deterioration was such that she could not discern the intentions of the capes around her, confusing celebratory actions with aggression. Her allies attempted to restrain her, but she lashed out and fled through a portal.
The last concrete detail of Taylor's existence was her encounter with Contessa, who held her at gunpoint and questioned her to discern if she could be saved. She was shot twice by Contessa as a result of the unexpressed determination made by Contessa.
Her shard may have been disabled by Contessa's gunshots, possibly saving Taylor's life at the cost of her powers.[citation needed] Taylor appears to have moved to Earth Aleph along with her father. She hopes she will be able to settle into a quiet existence.
To parahumanity of the Earth Bet diaspora Taylor is simply gone.[152]
Chapter Appearances
[
]
Trivia
[
]
Taylor likely triggered Monday the third of January 2011 as it was described as the first day of school in the new year.
Clones of Taylor made by Echidna are called variously Chitter or Scurry, both words can relate to rats just like skitter, her villain name, can relate to insects. Scurry being the movement of rats while chitter is more of a vocalization, and not solely related to rats.
"Khepri" is a god in ancient Egyptian religion connected with the scarab beetle, because the scarab rolls balls of dung across the ground, an act that the Egyptians saw as a symbol of the forces that move the sun across the sky.
Glaistig Uaine calls Taylor "Queen Administrator"[135], queen being one of the regal titles that Glaistig Uaine uses for those with powerful and fully developed shards[67], which became a popular fan nickname for the power. Similarly Scion refers to her as Queen and Administrator when seeing her.[153]
Taylor's surname, "Hebert," would most likely be pronounced "Ai-bear," as it is a French name. H is rarely pronounced in French, especially at the beginning of a word, and a final consonant is also rarely pronounced without a final "e" after it. However her surname is canonically stated to be pronounced "Hee-bert".[2]
Quotes
[
]
(To Lung): "Don't underestimate me."
(To Triumph): "Sorry. I didn't want this to go this far."
(To Doctor Mother): "I know what that's like, I've walked down that road. Maybe not so ugly a road, but I've gone that route. All the way along, I told myself it sucked, but I wouldn't do it differently. I did everything I did for a reason. Except now, having reached the point I was working towards, I finally do regret it all. The last two years, the way I treated my teammates, leaving the Undersiders... I'd change it all in a heartbeat."[154]
(To Tecton): "Being good or bad was never a thing for me. Not really. It was all about the actions I was taking and why."
I didn't follow that stuff, didn't buy into the hero worship. I'd always found the capes interesting, I'd followed the non-gossipy news about them, but with the exception of a phase around the time I was nine where I'd had an Alexandria t-shirt and had my mom help me find pictures of her online, I had never really got giddy over any particular hero. - Tangle 6.7
Fanart Gallery
[
]
References
[
]
[

]