We're Getting Mutants in the MCU - The Loop
Play Sound

Marissa "Mars" Newland, also known as Sundancer, is a member of the Travelers.
Personality
[
]
Marissa is a friendly girl that is shown to be at odds with Trickster's way of thinking, despite following his orders. She would prefer not to be involved with the Travelers and Coil, but it was her only hope of saving Noelle and returning to Earth Aleph.[2]
She did not actively enjoy the life of a cape, especially with the monsters she had to deal with.[3] She actively went out of her way to avoid killing anyone.
She wanted to get away from her controlling stage show mother, eventually doing so but not in the way she wanted.[4]
When she got the chance she retired from the cape life.[5]
Appearance
[
]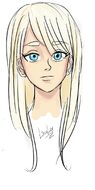 She is an attractive young blonde woman with delicate features and a long neck.[6] Her costume is a suit of black body armor emblazoned with red suns.[7] [8]
Abilities and Powers
[
]
Marissa's power allows her to create a miniature sun, hundreds or thousands of degrees in temperature that she can manipulate at will,[9] even while the orb is out of sight.[10] It is bright enough to leave spots in the vision of anyone who looks at it, even for a second.[11]
The orbs she could create ranged from the size of a beach ball, to a room,[12] to the size of a three-story building,[13][14] but even small orbs are dangerous.[15] One the size of a beach ball was capable of forcing a fifteen-foot-tall Lung to collapse from the heat.[16] It took time to form the sun, with repeated flickers of flame appearing between her hands. When sufficiently transformed, Lung's pyrokinesis was at the level to prevent her attempts to form the orb,[16] it could also be disrupted by hand but this ran the risk of being exposed to its heat.[15]
Over time she showcased more versatility with her sun, using it to put out fire by flash burning oxygen and absorbing heat and flame into her sun,[17][18][12][19][20] or creating a small light.[21] Her orb was able to burn creations of the world's foremost tinker,[22] even through doors meant to keep out Endbringers.[23] Her control of the Sun was such that it responded to her will even when it was out of her sight.[24]
Temperature completely normalizes close to her, as part of the protections afforded by her powers, preventing her from getting burned.[25] This effect extends to her clothes and the ground beneath her for about five feet. It doesn't extinguish flames but prevents them from damaging anything.[16]
History
[
]
Background
[
]
Marissa was born to a comfortably middle-class family where the only thing she had to worry about was a preppy name and a helicopter-stage mom. Growing up her best friend was Noelle Meinhardt, and thanks to her she eventually wound up as a member of a professional video game team after Mars finally rebelled against her mother.
Migration
[
]
When the Simurgh attacked Madison, WI on Earth Bet, she took several buildings from Earth Aleph - including the building Marissa was in - which left her stranded on Earth Bet with her friends. After Francis found a suitcase full of Cauldron superhero serum, they each took one except for Noelle and Oliver who only took half a dose.
They would eventually leave Madison, and when they discovered Noelle's problem they began seeking out help after it forced them to move from place to place.
While in Boston she had to interrupt Tricksters meeting with Accord due to the perennial problem being excited by an angry agitator. Her life was forfeit for this meeting but she was able to demonstrate, through a ballet routine, that she was not the source of the issue and was allowed to live. She would eventually receive her agreed upon costume.[26]
Story Start
[
]
During the war with ABB the Travelers appeared at the meeting at the Rock, With Sundancer, Ballistic and Genesis acting as an entourage for Trickster.
Was part of the Travelers contribution to the raid on what turned out to be an ABB drug den. She was able to keep Lung at bay for a time but the Monster's increasing ability eventually superseded her own prowess.
Created a large sun that was temporarily effective against the Endbringer that came to the Bay.[27] The monster was injured by her sun but was able to bat her away.
This knock back broke well over half the bones in her body, her life was saved by Panacea.[3] As were many others.
She engaged in multiple skirmishes in the weeks that followed, including against the Wards when the young heroes discovered them lurking around a site that heralded new arrivals to the Bay.
She proved effective against Slaughterhouse 9 when they made their presence known.
Defended her territory when the Dragonflight came to town, destroying several suits.
Mutinied against Trickster along with the rest of the team. Subsequently she was tranqed by Coil so he could focus on the Undersiders.
She personally ended Echidna and put her friend Noelle to rest. Afterward she removed her armor and stepped through the portal to Aleph.
All indicators point to her settling back into civilian life. The degree of success is outside of the scope of the story.
Mars returned to her civilian life and did not pursue cape activities further. Nevertheless, during Gold Morning, Khepri found Mars and brought her back when she was collecting capes.[28] Her sun was summoned and magnified by Vista while under the influence of Khepri; it proved effective against Zion.[29]
When the portals were closed between Earth Aleph and the rest of the Earths, Sundancer was presumably returned to her homeworld with the rest of her former teammates.[30]
Chapter Appearances
[
]
Trivia
[
]
Fanart Gallery
[
]
References
[
]
[

]