The headquarters of the Protectorate East-North-East is a refitted oil rig that sits out in Brockton Bay.[1]
Description
Edit
The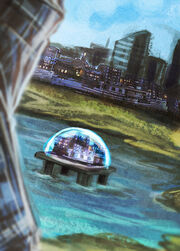 PHQ
was a floating base of operations that a squadron of local superheroes called home and outfitted with a forcefield bubble and a missile defense system. It was visible from pretty much any point on the Docks.
[2]
The forcefield made everything seen through it look oversaturated, like a TV with bad picture settings.
[3]
The structure was a marvel of architectural design with its arches and spires, lit by tinted spotlights and set on a beautiful platform with hard edges and sweeping lines.[2][1]
A forcefield roadway is used when traveling to and from the base.[4]
Background
Edit
As of early 2011, there had never been cause for the defencive forcefield or the missile turrets to be used.[2]
The PHQ was ripped up during the Battle against Leviathan and flung against the shore, but it did not seem greatly harmed by the experience and was quickly restored.
References
Edit
↑ 1.0 1.1 It was one of the best vantage points for seeing the PHQ in all its splendor. The headquarters was a series of arches and spires mounted on a retrofitted oil rig. Even the platform it was built on was beautiful, though, with hard edges and sweeping lines. The entire thing was lit up by tinted spotlights and set against a faint corona of shifting colors, like the aurora borealis trapped in the shape of a soap bubble. A forcefield, forever on, shielding the people who watched over Brockton Bay. - Agitation 3.4
↑ 2.0 2.1 2.2 The Boardwalk was where the tourists came. Running north-to-south along the beach, there were shops that sold dresses for over a thousand dollars, cafes with ludicrously expensive coffees and stretches of wooden walkways and beaches where tourists could get a great view of the ocean. From pretty much any point on the Docks, you could see one of Brockton Bay's landmarks, the Protectorate Headquarters. Besides being a marvel of architectural design with its arches and towers, the PHQ was a floating base of operations that a squadron of local superheroes called home, outfitted with a forcefield bubble and a missile defense system. There had never been occasion for either to be used, but I had to admit, it made you feel safer. - Excerpt from Gestation 1.3
↑ She went to the window and stared at the city across the water. Colors shifted subtly in the refracted light of the PHQ's forcefield, oversaturating the view like a TV with bad picture settings. - Excerpt from Interlude 7
↑ 2) Forcefield roadway, same as the field that was supposed to break the incoming waves. - Where does Armsmaster park his Motorcycle?(Wildbow, Reddit, 2015-08-17)