Jurassic World: Dominion Dominates Fandom Wikis - The Loop
Play Sound
Basic Information
Aliases
Glaistig Uaine
The Faerie Queen
Valkyrie
Green Maiden
[1]
Professional Status
Teams
Previous Team(s)
Independent
Ciara
, known publically as
Glaistig Uaine
(pronounced "glash-tig ooanya"),
[6]
The Faerie Queen
and later as
Valkyrie
, is a former
Birdcage
cell block leader and a current headliner of
The Wardens
.
Personality
[
]
Appearance
[
]
Abilities and Powers
[
]
Ciara referred to herself as "the Keeper of the Dead".[2]
Death Touch and Collection
[
]
If desired, Ciara can collect imprints of parahumans using a touch-based ability on their body, killing the person in the process.[12][13] On one occasion, she killed a mercenary by touching the crystal shell he enclosed around himself[14] right before he could escape.[15][16]
Ciara can also seemingly collect imprints of parahumans who die within a unknown range of her, as she was shown to have had Bakuda and Grue in her collection despite not being in their immediate vicinity around the time of their deaths to touch them.[17][18] However, she can avoid collecting a nearby deceased parahuman.[19] It is implied by Ms. Yamada that Ciara had the ability to steal powers even before her second trigger,[3] so what the exact changes to her power were before and after her second trigger are unknown.
Control of Parahuman Shadows
[
]
At any one time, she can have the parahumans she has 'claimed' manifest as ghostly specters, complete with the ability to physically affect the world and use their powers; she normally limits herself to two or three, but can maintain more than that at the cost of significantly reduced individual power.[20][21][7][22][23][24] They are seemingly limited to her immediate presence,[25][26][27] and she seems to be able to create multiple copies of a ghost, as it is inferred that she made two ghosts of Bakuda simultaneously to create bombs.[28]
Capes she manifests appear as duplicates of their former selves with exaggerated, caricatured or blended features. Their powers are unaltered.[8][2] They slowly regenerated after being destroyed or injured in a fight.[2] They appear transparent and shadowy but otherwise solid[8] and can interact normally with the physical world;[20] projections that are dismissed dissolve into smoke or shadow[2] or collapse into a point in her hand "like an explosion in reverse".[8] They were affected normally by gravity unless she levitated them with another power.[27]
When they try to speak, their voices sound faint and incoherent to others, as if were emulating language rather than actually uttering it,[8] they can speak in voices only Ciara can understand,[2] although later shadows are able to speak coherently enough to be understood by bystanders. Ciara can communicate with currently inactive spirits and partially aware of their emotions and desires. The shadows maintain their original personality and some degree of agency, although it somewhat wears off with time in the same way as their appearance. The recently collected imprints are even able to defy Ciara's wishes, although she expect them to submit later.[29]
She draws power from her dormant shards, and feeds her active projections with that power. Even when they are not visible, she still has three projections "active".[7]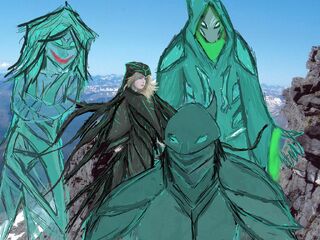 By the end of Worm, she has absorbed the powers of countless capes, including Eidolon. With Eidolon's ghost increasing the number of powers she can wield at once from three to five, and several more if Eidolon's powers are weaken by him using too many powers or Ciara summoning too many phantoms, she is now indisputably the most powerful parahuman in existence. Even before his death, Eidolon himself speculated that she had grown to surpass him in power. However, as of Ward, she seems reluctant to use Eidolon, stating his "battery is almost empty", and that recharging it would be "more trouble than it was worth". She was able to escape Khepri's control by forcing her to control one of her spirits instead of herself, possibly using that spirit's power.[30][31]
As the Titan Valkyrie, her power limitations have been removed. She can spawn a much greater number of ghosts at once and have them leave her immediate prescence, with the limit on both being unknown. She also has the power to make a ghost of Eidolon, something she could not do before.[11]
Power Vision
[
]
Ciara possesses a secondary Thinker power, much like Chevalier and Ingenue, that allows her to recognize the carriers of other shards and see phantom images surrounding the empowered, but it is way more sensitive, including ability to sense distant parahumans through walls and at great distances.[2] She is capable of recognizing the details of how individual powers work by analyzing their phantoms.[24]
History
[
]
Background
[
]
Ms. Yamada believed that Ciara triggered at a very young age. She speculated that she was isolated both before and after her trigger, "surviving purely by your own methods", and at some point experienced a second trigger event that led to her powers eclipsing her personality. Ms. Yamada speculates that the cause was either stealing the wrong power, fighting someone and losing, or Ciara finding herself in a bad situation.[3]
When Glaistig Uaine's ability to harvest and use the powers of any recently deceased parahuman she had come in contact with became known, it evoked panic among the cape community. Multiple teams sent after her failed, with thirty-two capes fatally claimed by Glaistig Uaine, then an armed force of fifty parahumans was assigned, they retreated, thirteen of them having been claimed, "everything" was reportedly sent after her and only then did Glaistig Uaine willing enter the Birdcage.[22]
Glaistig Uaine's most notable accomplishment at this time was permanently killing Gray Boy, something which was thought to be impossible due to his power resurrecting him whenever he died. Glaistig's ability to steal the powers of the recently deceased stopped Gray Boy from resurrecting. After this, she attacked the King's Men and killed Athrwys, before turning herself in to the authorities.

Her killing of Gray Boy was orchestrated by Contessa to allow Cauldron to eliminate Gray Boy while still keeping his power in play for use against their true enemy.[32]
As the leader of Cell Block C Glaistig Uaine welcomed Amelia to the Birdcage.
She was later shown having conversations with Eidolon about parahuman shards and Scion. She spoke cryptically and indicated that she intended for Scion to win the coming conflict. She referred to Eidolon as the "High Priest".
Glastaig Uaine began helping in the fight against Scion during the oil-rig battle in order to "force him back to sleep".[33] Liberal application of Gray Boy's power allowed her to effectively stall him, as every time Scion was trapped in a time loop he had to expend effort to break free.[27]
A major contribution to the battle was her hinting Eidolon that he could drain the energy of other parahuman's shards to re-charge his own powers. Most notably, it allowed him to use the Matter Eraser, a power that had been unavailable to him since before the emergence of Behemoth, as well as a slew of other lethal powers so effective in combination with Glaistig Uaine's defensive abilities Scion had to resort to Path to Victory to defeat the pair.[21][34]
Eidolon's death at Scion's hands allowed her to harvest his shard,[35] making her the most powerful parahuman in history. She was shown to be able to resist being mastered by Khepri. She accomplished this by shunting Khepri's control from herself to one of her conjured parahuman ghosts.[36] Over the course of Khepri's fight against Scion, she also claimed Doormaker, still able to use his power despite Khepri depleting it earlier.[37]
After Khepri's victory against Scion, Glaistig Uaine was able to "convince" her to leave the dimension without incident and liberate her swarm, or so it seemed to others.[38]
After events she wound up taking a therapy with Jessica Yamada, who got her to reexamine her life.[2]
Ciara presented herself to the world as Valkyrie to the grumbling of the other heroes.
Later she went to the basement of the Warden HQ where she met with Rinke and Riley. This interaction gave her an idea of what to do with her Flock.
Two years after Gold Morning,[39] Valkyrie was known as a "rising star" in the Wardens. An interview with her was posted online and discussed on Parahumans Online, where she deflected questions regarding her former identity.[1]
As a member of the Wardens and a new hero she was still considered one of the group's key members, and has her own statue in HQs lobby.[40]
She was present at the briefing when the team of new heroes gave their presentation about the viability of an assault on the Mathers compound.[41]
At this point she had already amassed a group of resurrected parahumans, although something prevents her from continuing to pursue this path.[24]
Survived the portal sabotage, but was very busy since then.[42] Valkyrie was sent on many high-tier missions, including dealing with the Tower, a dog with powers, an army of ghosts, and a warzone full of powered warlords. She was able to find the stranded Warden personnel.[24]
Valkyrie decided to produce more of The Flock to bolster anti-Teacher operation.[43]
During the Wardens' assault on Teacher's base she was depowered and cornered by Ingenue, with her Flock attempting to protect her.[44]
Valkyrie allowed more freedom to the members of The Flock, and started introducing them to their friends and relatives,[45] while still keeping the core team near herself.[46]
She led the The Flock against Titan Auger. Before she was able to do anything substantial Auger recognized her and summoned Axehead, which ambushed Valkyrie and thrown her into the thick of Machine Army. She had to be saved by Grue yet again.[47]
Fell victim to the second Ice Break and became a Titan, leading to her Flock being scattered.[48]
As a part of agreement between Contessa and Antares Titan Valkyrie delivered Riley Davis, the parahuman plague, and the remainder of remote cape-volunteers to The Wardens' HQ.[49]
Chapter Appearances
[
]
Fanart Gallery
[
]
References
[
]
[

]