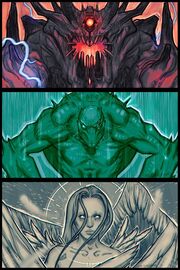 "
The Endbringers were something we all understood. A fact of reality, something that touched everyone, struck a chord of fear in cape and civilian alike.
"
The Endbringers are monstrous beings that take turns attacking locations around the globe to cause as much damage as they possibly can. Apparently unkillable, the Endbringers retreat to their respective domains to heal after they have sustained sufficient damage, only to attack again months later.
According to Tattletale's power, the Endbringers were never human and have no vulnerable organs. Rather, the Endbringers appear to be made out of some type of a crystalline material. In addition, they consist of about 200 layers in the main body and 33 in the limbs, each one approximately twice as hard as the previous one. These layers surround their cores, the only part of their bodies that is actually vital.
An Endbringer's skin is "hard as aluminum alloy, but flexible"; and its strength, toughness, and healing factor increase exponentially. 3% deeper in toward core of arms, legs, claws, tail, or .5% in toward core of head, trunk, neck, tissues are hard as steel. The tensile strength of the material roughly doubles with each layer, every 0.5% of the way towards the center of his body and every 3% of the way toward the center of their extremities; Wildbow has confirmed [1][2] that "extremities would take 30 trillion atmospheres of pressure to damage." The core of an Endbringer would require around five hundred and sixty novemdecillion[3] MPA of pressure; in practice, only parahumans capable of breaking the laws of physics can seriously harm an Endbringer.[4]
However, a concentrated attack with enough force to destroy the surface of a planet would be sufficient at killing an Endbringer in one shot.[5] While even an attack of that magnitude would not destroy all layers of the Endbringer body, enough energy to obliterate it instantly would be transmitted into the core, resulting in a 'definite kill'. In theory String Theory's Driver weapons pose a significant threat to the Endbringers. As a consequence they carefully plan their appearances as to eliminate any possibility of facing her in combat.[6] Projectiles affected by Flechette's power would be able to destroy an Endbringer's core.[7]
Due to their density, Endbringers are immune to most teleporters. They count as living matter for the purposes of the Manton Effect.[8][9] Endbringer cores employ space-warping that interferes with some powers.[10] When they take damage they leak a thick ichor-like substance, suggesting a non-standard cardiac system. Their nervous system is also foreign enough to prevent body control powers from working.[11] They regenerate quickly as well, even in the middle of a battle. The deeper layers regenerate faster because the material from the intact layers expands to fill in any damaged or missing areas.
Lens through which the Endbringers Mass is projected. As long as this in unharmed the Endbringer can fight at full strength regardless of any damage done to it.
Behemoth — also known as "Hadhayosh" and "Prathama" — was the first Endbringer to appear, making its first appearance in the Marun Field of Iran on December 13, 1992[12]. It has the ability to manipulate multiple forms of energy (electrical, thermal, kinetic, and etc.) while bypassing the Manton Effect. Because of this, it gained a reputation as the 'hero killer,' possessing a high body count at short range.  The Protectorate recommended that no cape get within 35 feet of him, as within this range almost no cape had a means to protect themselves should he wish to vaporize, electrocute, or otherwise kill them; even super-speed capes could be out-sped and killed by his lightning.  That said, Behemoth seems to lack complete control over his energy manipulation, as demonstrated in the New Delhi fight, when Weaver and several Wards with her were able to create a large metal structure which acted as a lighting rod and re-directed some of his lighting bolts. 
Leviathan — also known as "Jormungand" or "Jörmungandr" — appeared in Oslo, Norway on June 9, 1996.[13] It has macro-hydrokinesis, speed, and a water "afterimage" that follows behind it and moves as fast as Leviathan itself. It was known for causing immense environmental damage, devastating areas such as Newfoundland and Kyushu to the point of uninhabitability.
The Simurgh — also known as "Ziz"[13] — appeared in Lausanne, Switzerland on December 30, 2002[12]. It has psionic abilities (most infamously manifesting as a "song") and the ability to draw on Tinker powers around it in order to build its own Tinker devices.  The Simurgh also has near-perfect precognition but lacks the ability to perceive the present; in combat, this strength more than makes up for her weakness. Not only does this precognition make her extremely effective in combat, but it also enables her to target key locations or individuals.  When the Simurgh attacks a key target, it is known to adjust the events in places it attacks to set up the survivors to be "walking disasters" that happen days, months, or even years after. Affected areas were quarantined to try and mitigate these effects, such as in the case of Madison, Wisconsin.
Following the death of Behemoth, the existing Endbringers seemed to change tactics, while new Endbringers appeared, apparently with a different purpose.[14] The first of these was Khonsu, which appeared in Japan on January 20, 2012. It has the ability to create circular fields that trap people inside. People from the outside see the field as increasing the speed of time, but it passes normally to those inside. It also has world-wide teleportation abilities.
Tohu and Bohu appeared in Bucharest, Romania on October 10, 2012. Bohu manipulates the battlefield, setting up traps for defending parahumans and manipulating the area in a set pattern. The full extent of these traps is not fully detailed, but it is heavily implied that, should Bohu successfully alter a city, it would be rendered unsuitable for habitation.  This has not stopped large groups of parahumans from fighting in altered cities, however, as demonstrated by Jack Slash. Tohu chooses three capes and then copies their powers to defend its "sister" Bohu.  For obvious reasons, it tends to copy stronger powers. 
Date
Endbringer
Location
1992-12-13[15]
Behemoth
Marun Field, Iran
1993-07-06[15]
Behemoth
São Paulo, Brazil
1994-03-26[15]
Behemoth
New York, USA
1994-11-01[15]
Behemoth
Jakarta, Indonesia
1995-06-18[15]
Behemoth
Moscow, Russia
1996-01-03[15]
Behemoth
Johannesburg, South Africa
1996-06-09[15]
Leviathan
Oslo, Norway
1996-11-06[15]
Behemoth
Cologne, Germany
1997-04-23[15]
Leviathan
Busan, South Korea
1997-09-30[15]
Behemoth
Buenos Aires, Argentina
1998-01-18[15]
Leviathan
Sydney, Australia
1998-07-03[15]
Behemoth
Jinzhou, China
1998-12-25[15]
Leviathan
Madrid, Spain
1999-07-21[15]
Behemoth
Ankara, Turkey
1999-11-02[15]
Leviathan
Kyushu, Japan
2000-04-10[15]
Behemoth
Lyon, France
2000-09-16[15]
Leviathan
Naples, Italy
2001-02-25[15]
Behemoth
Vanderhoof, Canada
2001-07-06[15]
Leviathan
Hyderabad, India
2001-12-06[15]
Behemoth
Lagos, Nigeria
2002-04-23[15]
Leviathan
Shanghai, China
2002-08-20[15]
Behemoth
Bogotá, Colombia
2002-12-30[15]
Simurgh
Lausanne, Switzerland
2003-04-01[15]
Leviathan
Seattle, USA
2003-08-12[15]
Simurgh
London, UK
2003-10-03[15]
Behemoth
Lyon, France
data unavailable
2005-05-09[16]
Leviathan[17]
Newfoundland, Canada
data unavailable
2009-12-23[18][19]
Simurgh
Madison, USA
data unavailable
Nov 2010 [20]
Behemoth
???
2011-02-24[21]
Simurgh
Canberra, Australia
2011-05-15[21]
Leviathan
Brockton Bay, USA
2011-07-26[21]
Behemoth
New Delhi, India
2011-11-25[21]
Simurgh
Flight BA178, International waters North Atlantic
2012-01-20[21]
Khonsu
Indiscriminate
2012-04-02[21]
Leviathan
Lüderitz, Namibia
2012-06-05[21]
Simurgh
Manchester, UK
2012-08-15[21]
Leviathan
Rio de Janeiro, Brazil
2012-10-10[21]
Tohu/Bohu
Bucharest, Romania
2012-12-19[21]
Simurgh
Paris, France
2013-02-05[21]
Khonsu
Indiscriminate
2013-05-17[21]
Tohu/Bohu
Los Angeles, USA
Unknown [22]
Leviathan
Oakland, USA
The Endbringers intend to continue operating for roughly 300 years, the estimated length of the cycle. They can only reach this date by conserving their energy and intentionally fighting below strength.[23] They constantly update their strategies from attack to attack, coming back with new approaches,[24] and revealing new abilities that they hadn't shown before.[25]
Each of the Endbringers was created for a specific purpose to conform to their 300-year timeline. Behemoth was created to "break stasis," Leviathan to take away resources in space and land, forcing communities into conflict as they relocated, and the Simurgh to simulate a future where humanity destroyed itself from in-fighting, as well as to forcibly gather information on the planet's resources to provide better data.[26]
The first Endbringer, Behemoth, appeared in 1992 in the Marun oil field of Iran, beginning a series of attacks at various locations worldwide, roughly once a year. The appearance of Behemoth was a major factor towards the creation of the PRT, which labelled the Endbringer as Case 2 in their case files.[27] For the Quattuorvirate, the presence of Behemoth, as well as the potential for future capes of his caliber, was also a major motivating factor for the formation of their team and the continued work of Cauldron.[28]
Over the next several years, the Endbringer attacks continued to escalate. Once Behemoth began to be "too predictable," the second Endbringer, Leviathan, appeared in 1996, in Oslo, Norway.[29] Attacks started occuring roughly every five months.[30] Worldwide defense efforts began to coordinate forces against Endbringer attacks; apparently in response to these efforts, in 2002, the third Endbringer, the Simurgh, made her first appearance, appearing docile at first before attacking and revealing herself to be an Endbringer.[31][29]
The three Endbringers continued their worldwide attacks over the next decade, creating immense destruction. An attack from Leviathan on Newfoundland sunk the entire island, killing the tinker Andrew Richter, whose creation Dragon later joined the Guild[32]; a separate attack from Leviathan sunk the island of Kyushu, despite resistance from Lung.[33] The benevolent tinker Sphere was turned into future Slaughterhouse Nine member Mannequin by an attack from the Simurgh; another Simurgh attack on Madison, Wisconsin brought the Travelers to Earth Bet, later bringing about the Echidna.[34]
Leviathan Attack on Brockton Bay, 2011
[
edit
|
edit source
]
On May 15, 2011, Brockton Bay was the target of an attack by Leviathan; Miss Militia believed the attack to be in response to the recent gang conflicts plaguing the city[35], while the Travelers suspected Noelle Meinhardt to be the target of the attack, a theory which Tattletale later agreed with.[36][37] Early-warning programs operated by Armsmaster and Dragon were able to foresee the attack and give local and foreign capes a chance to organize against it.[35] Leviathan still devastated the parahuman resistance, only retreating with the appearance of Scion, and destroyed a large part of the city. The number of casualties was the lowest for an Endbringer attack in years, however, leading Taylor Hebert to later reflect on the attack as a "good day" compared to other attacks.[38]
The Leviathan attack nevertheless had significant and long-lasting consequences for the city; large swaths of it were left without power and resources, while others were destroyed entirely. The local Protectorate team was weakened by the death of Velocity and the retirement of Armsmaster, while the deaths of Aegis and Gallant severely hurt morale among the local Wards and required the arrival of Weld and Flechette to bolster their ranks.[39] New Wave was also hit hard by the deaths of Shielder and Manpower, and the injury of Flashbang. Meanwhile, with the city's major gangs removed from power and the heroes still recovering, the Undersiders and the Travelers were able to claim territory, furthering their employer Coil's plans to take over the city.[40]
Despite these issues, the city was able to recover to a reasonable position within several months.[38] However, its poor state soon after the attack ultimately attracted the attention of the Slaughterhouse Nine, whose presence in the city eventually set the stage for the end of the world.[41]
Behemoth Attack on New Delhi, 2011
[
edit
|
edit source
]
The next Endbringer attack occurred on July 26, 2011, when Behemoth attacked New Delhi. The battle was attended by both the local cape groups of the Garama and Thanda, as well as capes from the Protectorate and the Yàngbǎn, as well as the Undersiders and Ambassadors. The Endbringer's goal was likely a "time bomb" operated by local 'cold' cape Phir Sē, composed of light looped repeatedly through portals, accumulating power.[37][42] Phir Sē eventually deployed this energy weapon, dealing the most damage to an Endbringer ever done, but it only succeeded in removing the Endbringer's outer layers, leaving his 'skeleton' intact.[43] After further fighting, Scion arrived, and having been instructed by Kevin Norton to slay the Endbringers, he killed Behemoth.[44][45]
In addition to the deaths of numerous civilians, the attack saw the deaths of noted capes such as Regent, Rime, and Accord. Alexandria's body, possessed by Pretender, notably made an appearance at the attack. In addition, the Chicago Wards, after cooperating with Weaver, made the decision to let her onto their team.[46] The largest consequence of the attack on New Delhi, however, was the death of Behemoth. The Endbringers, long seen as a fact of life, were shown in this battle to be killable, prompting questions about the next steps forward regarding the other Endbringers, as well as what they would do to escalate next.[47] As information about the attack spread to the public, it was similarly met with both celebration and skepticism about the defeat, with some expressing concerns that Behemoth was not actually dead, or that the defeat would provoke the remaining Endbringers.[48]
The first Endbringer attack following the death of Behemoth was an attack from the Simurgh on November 25, 2011, on Flight BA178; unlike prior attacks, the fight lasted only forty minutes, with little lead-up and no casualties besides the passengers of the plane.[49] This attack marked a change in strategy for Leviathan and the Simurgh, both of them beginning to use guerrilla tactics.[50]
The most notable development regarding the Endbringers occurred with the appearance of the fourth Endbringer, Khonsu, on January 20, 2012. In contrast to prior Endbringer attacks, Khonsu teleported to attack multiple locations worldwide for a period of three days, requiring intense negotiations and coordination from Cauldron to drive off.[51] In addition, the proximity of Khonsu's attack to the Simurgh's only two months before suggested not only an altered schedule, but given the precedent, the appearance of a fifth Endbringer.[30] On October 10 later that year, this fear was confirmed with the appearance of the Endbringers Tohu and Bohu, collectively The Twins.
Over the course of the Timeskip, the now-five Endbringers continued their attacks, making use of hit-and-run tactics and other strategies to counter and avoid Scion.
Following the death of Eidolon, the Endbringers began behaving strangely. The Simurgh and Bohu appeared at the same time on Earth Bet, something never before seen, but both remained motionless.[52] Reviewing footage from Eidolon's last minutes before death, Tattletale concluded that Eidolon's death had caused their unusual behavior and attempted to communicate with the Simurgh, asking her to organize the Endbringers against Scion.[53][54] After several attempts, Tattletale appeared to have successfully convinced the Endbringer, managing to get the Simurgh, as well as Leviathan, to follow the group and attack on command; in addition to having the Simurgh 'imprint' on Tattletale, soon later Khonsu imprinted on an individual in Teacher's group, whose services were sold to Cauldron.[55][56] The Simurgh modified Leviathan, incorporating nano-thorn technology into his body.[57]
The Endbringers, sans Khonsu, later held off Scion during the rise of Khepri.[58] The four Endbringers were able to distract Scion as Khepri made her moves, but eventually were incapacitated, with Leviathan killed and the others severely damaged.[59] Following Scion's defeat, the remaining four Endbringers were largely dormant.[60][61] The Simurgh appeared to be active, however, apparently having used Tinker technology to grow a baby with an unusual resemblance to Eidolon.[62]
The Endbringers have killed countless people in their attacks and wiped out several notable heroes. They have caused demographic and political shifts and environmental degradation on a scale not seen outside natural disasters. In addition to the physical damage and loss of civilian lives, their attacks have had the effect of killing or otherwise removing parahumans who served as luminaries and leaders willing to sacrifice themselves for the greater good, perhaps contributing to more prevalent cynicism and hopelessness in the general population.[63] Leviathan alone has precipitated a water crisis.[63] Collectively, their impact has been compared to nuclear weapons (which Earth Bet does not seem to possess), especially since the Endbringers usually target cities or other large population centers.
Conversely, without the Endbringers there would be fewer parahumans than there would otherwise be, and much of the coordination in the Cape community is because of the need to repel Endbringer attacks.[64][65][66] 
Eden's simulation of an ideal future included 'superweapons' implied to be Endbringers. In the simulation, she attributed them to The Shepherds, pretending to The Wardens that she would help defend against them, but in reality she was their source.[67] There were twenty such superweapons in total[68], including:
A fifteen-foot tall lion-headed figure surrounded by crystal, who turned whatever the crystal touched into more crystal.
A woman with a reptilian lower body, surrounded by clouds of steam which took the form of faces, claws, and other forms.
A naked man, perched on top of a seemingly frozen ocean wave, with a 'too flexible' body that swayed with the wind.[69]
Four superweapons at the 'Divide,' one to the north of the Wardens, and four others spread out around the world.[68]
For the most part, these superweapons remained inactive, acting only when they sensed vulnerability.[67]. The Wardens knew them to be projections, but otherwise information about their nature was unclear.[70] In feigning ignorance about her involvement with the superweapons and promising to help the Wardens with a potential war against the Shepherds, Eden likely intended the Endbringers to be used to incite conflict to further the goals of the Cycle, but after her death, this future did not come to pass.
Had Cauldron ceased to exist soon after killing Eden, the Endbringers would not have existed.[71] The Endbringers began behaving strangely after Eidolon's death; this led Tattletale to speculate that Eidolon may have created them, perhaps inadvertently, or perhaps as an excuse to "flex his abilities to their fullest".[53] She claimed to be "60% sure" of this conclusion.[72]
"
The outer shell, the concept, the execution, they're tapping into religious metaphors. The devil, the serpent, the angel, buddha, mother earth, the maiden, each connected in turn to fundamental forces. Flame, water, fate, time, earth, the self. Things deep-seated and fundamental to their creator's belief system, because that's how the passengers interpret our world. Through us. But deep down? Beyond that surface, beyond the basic programming that drives them to do what they've been doing for thirty years? It's the passenger's brush strokes.
"

—Tattletale on the Endbringers [73]
The four words which Scion says to Eidolon in Interlude 27.y may confirm Tattletale's theory that Eidolon created or, given Eden's plans for her superweapons, merely awakened the Endbringers, but it is unknown whether Scion was telling the truth or just used the words in order to achieve his goal.[74]
A popular theory among some of the Worm fandom is that the Endbringers were once parahumans, who either snapped or couldn't handle their powers, gotten out of control, transformed into gigantic monstrosities. With the full reveal of their origins this theory has been disconfirmed.
It is speculated in-universe that some tinkers (Bonesaw, Rattenfänger, Jamestowner, Mosaic, Monstrum) and other non-tinker capes like Chrysalis or Nilbog may have the potential to create Endbringers,[76] (or, given what we now know about their origins, beings of comparable power) if they could find some outside means for cooperation or a power boost/second trigger.[77]
Community content is available under
CC-BY-SA
unless otherwise noted.