Chevalier is the leader of the Philadelphia Protectorate team. He later became the leader of the Protectorate after Legend stepped down, and ultimately became the leader of the Wardens.
Personality
Edit
Chevalier is driven and focused, able to serve as an inspiration to others in his determination to save people as a hero.[3]
This drive could get him into trouble at times.[4] An alternate version of him would have continued an assault to accomplish an objective regardless of casualties. Chevalier in the timeline that substantiated actually cares.[5] His difference from this planned version can be attributed to his time in the Wards, among other developments.[6] He was willing to credit Weaver with the maneuver that turned the tide against Echidna, showcasing a reasonable humble side.[7] He was also willing to extend second chances to others as he and many of his colleges had been beneficiaries of such.
Relationships
Edit
Alexandria had a major influence on him when he was a child.[8] Thanks to her he took his first steps in overcoming his anger over his brother's loss.
Due to his thinker power, Chevalier was aware of Alexandria's secret identity as Rebecca Costa-Brown.[9]
Was good friends with Myrddin, having a running dialogue over issues of faith.[10] Their association was encouraged by the PRT[11]
Was an old friend of Armsmaster and was willing to give him another chance as Defiant.
Served with Miss Militia in the inaugural wards team,[12] briefly dated when they were younger.[13]
She considered him to be too soft,[14]it is unknown how they usually interacted.
Reputation
Edit
Prior to assuming command of the protectorate Chevalier was considered one of the top heroes in the organization,[15] as such people regularly deferred to him during a crisis if more well-known heroes were not present.
Appearance
Edit
As a child, he wore makeshift armor and carried a club.[12]
As an adult Chevalier wears a distinctive silver-and-gold armor and wields a cannonblade - a cross between a two-handed sword and a gun.[16] This became a distinctive color that was associated with him.[17]
During Gold Morning he integrated parts of the Simurgh's wing and Behemoth's severed foot into his armor and sword. It is unknown if the armor's new black and red coloring is from the addition of these parts or if it was an aesthetic choice by Chevalier.
His armor got another design change later.[18]
Chevalier's body is severely scarred.[19]
Powers and Equipment
Edit
Chevalier has the power to combine the properties of several items into one - selectively taking their attributes into his primary weapons,
[20]
he needs stamina and concentration to use his power.
[12]
He viewed these different attributes as shapes and lines in an abstract representation of the object's properties.
[21]
His power also grants him the ability to see certain details of other capes' trigger events, or even metaphorical visions of their passengers, as a sort of overlay when he looks at them.
[21]
People who had had second
trigger events
had a noticeable intensity to them, while viewing
Eidolon
gave him a migraine after long periods.
[22]
The images grew more distinct when people used their powers, and the shadows alone help with his combat and awareness but it can overwhelm him.
[23]
It was considered classified information.
[2]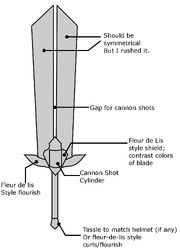 All of his equipment is specially constructed so that the different versions matched up as much as possible. His distinctive "cannon-blade" was constructed by overlaying three distinct swords, a decorative ceramic blade with a molecular cutting edge, a functional lightweight aluminum sword for ease of use, and a massive steel sword usually transported as the floor of a Dragonflight carrier all with identical cannon mechanisms built within;[12] similarly he has three suits of armor. The armor is combined from the decorative suit that he is known for, a suit that is light as aluminum, and a gigantic scaled-up version made from welded steel construction, he wears mesh and similar protective gear under the armor.[24] The armor is easier to do than the cannon blade.
His power is interfered with by some other space-warping effects, such as in the core of an Endbringer,[25] or Foil's power,[26] causing the individual objects to separate. This does not mean his armor is weak however.[4]
Strategies and Skills
Edit
He can adjust which properties to use on the fly, making his weapons heavier, larger, sharper, etc. when it provides the most benefit.[27] He can enlarge his weapons while they're embedded in something,[25] damaging it.[20] He could apply the properties of one to only a portion of another,[28] take the appearance of one and the properties of another,[29] and manipulate the properties to a point in-between those of two different items he'd combined.[30] It allows him, for example, to use his sword as a vaulting pole or slingshot himself by returning the true mass at the right moment.[31]
Background
Edit
The boy who would be Chevalier grew up in a family with at least one younger brother.
He would trigger during a car crash trapping him within a metal shell. He found out later his brother was kidnapped during the confusion; the crash had been deliberately set up by a kidnapping ring called the "Snatchers". Three years later, he heard about the group again and was almost given the codename "Relentless" for the way in which he pursued them. After taking them down, he was recruited into the Inaugural Wards Team team by Alexandria.[8] He became friends with Hannah, even having a short relationship in high-school before they drifted apart as their roles ate up more of their lives.[13]
He became a regular attendee of Endbringer attacks and stepped into a major role in the Protectorate.[11]
Chevalier and Myrddin encountered Faultline's Crew, according to Newter they failed to capture the mercenaries.[32]
Story Start
Edit
He appears with many other heroes when forces are gathered to repel the Endbringer attack on Brockton Bay.[33]
When Skitter said she could track leviathan with her bugs Chevalier gave the okay for her to be airlifted to keep track of the monstrosity.[34]
Post-Slaughterhouse Nine
Edit
Returned to Brockton Bay to fight another S-Class threat.[35]
When The Triumvirate was incapacitated during the fight responding parahumans followed Chevalier's orders.
Held a press conference for when Weaver was welcomed into the Protectorate.[36]
Informed Weaver of the compromise that Glenn Chambers proposed that allowed her to join the wards and by extension the Protectorate.[37]
As the leader of the Protectorate, he participated in the Battle against Behemoth. In the early stages, he met with Tattletale and Accord to plan the attack on Endbringer only to be attacked by the rogue Yangban member intent on gaining revenge against the later thinker. Coming to in the hospital he was briefed by Tattletale regarding the situation and personally entering single combat against Behemoth with the help of Usher's power.[12]
In succeeding Legend as leader of the Protectorate Chevalier would also become the head of the New York Protectorate.[38]
He rallied the Protectorate forces against the threat. He was wounded in the initial engagement and refused healing so he could actually get work done. He had to deal with visits from Ingenue. Eventually, he had a meeting with Legend and planned some last-ditch tactics. Glaistig Uaine came to talk to him.
Following the Rise of Khepri and the end of Gold Morning, Chevalier helped head one of the known factions, the Wardens - forming from the remnants of the Protectorate - alongside Legend, and was there when Valkyrie was inaugurated.[39]
According to a conversation between Ingenue and Teacher, Ingenue and Chevalier held some sort of relationship post-Gold Morning, though this is ending or has ended as of the conversation.[40]
Was the leader and spokesperson for the Wardens and was considered a key member.[41] As such he had his own statue in the lobby of the Warden's HQ.[42]
The Crowleys carried out a terrorist attack that caused widespread devastation, expanding the portals and stranding Chevalier, as well as other key members of the Wardens.
At the time of the Hard Boil incident, where Breakthrough has gone public about the Gold Morning, Chevalier has found his way back and returned to his public relations role.[43]
His group was defeated and captured by The Fallen during The Wardens' assault on Teacher's Compound.[44] Chevalier was tortured by Christine Mathers for some time, before Precipice, Love Lost and Colt arrived and disposed of the Fallen. He led survivors to Teacher's command post.[45]
Following the invasion of a Shin super-weapon, fashioned after Chevalier, into The City borders and The Kronos Titan attack on it. Chevalier and his people deployed against both of them.[46] Chevalier blocked the path for Kronos with his sword, which proved enough to stop him and scare off The Simurgh.[47]
Chevalier rallied the remaining parahumans of the city against the Titans[48] and The Simurgh. He personally fought Fortuna's titans[49] and The Simurgh.[50][51] He was wounded in the final part of fighting.
Chevalier was initially reluctant to proceed with parahuman plague, but followed with it as the second after Defiant.[52]
Chevalier is pronounced "Che-va-lier"[54]
Chevalier's middle name is Michael. [55]
Fanart Gallery
Edit
References
Edit
Community content is available under
CC-BY-SA
unless otherwise noted.